Reserve your booth today!
Tour Information is available here
Join us for the 2017 Midwest Car Wash Association Expo! This year's location is the MotorCity Hotel and Casino in Detroit, Michigan. Promote your products at the ONLY car wash show in the Midwest! Consider a sponsorship to make your company even more visible. Space is limited, so book your booth early!
To reserve a booth, please submit the form attached to the prospectus. Click the thumbnail to see current availability.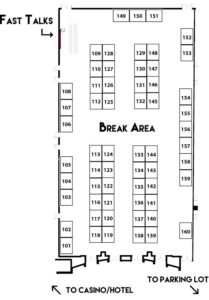 Hotel Information
MotorCity Casino Hotel
2901 Grand River Avenue
Detroit, MI 48201
For Reservations Call: 866-STAY-MCC (866-7829-622)
or visit https://www.motorcitycasino.com/Hotel.aspx
Reserve a room by May 30th, 2017 to receive the discounted rate of $159 per night (plus taxes). Mention the Midwest Carwash Association when making your reservation (Subject to availability).
MCA Annual DINNER
Join us for dinner, awards and networking on June 20th following the show. Dinner, including a hosted bar, is $55 per person. Bring your staff, co-workers and customers for a fabulous meal and networking. Each registered exhibitor can receive one complimentary ticket, see details on registration form.
Show Schedule
MONDAY, JUNE 19TH
1:00 PM - 7:00 PM Exhibitor Set-Up
TUESDAY, JUNE 20TH
9:00 AM - 10:00 AM Registration
10:00 AM - 5:00 PM Trade Show Expo Open
5:00 PM - 9:00 PM Exhibitor Tear Down
6:00 PM - 8:00 PM MCA Annual Dinner
WEDNESDAY, JUNE 21ST
7:00 AM - 12:00 PM Exhibitor Tear Down
9:00 AM - 10:00 AM Continental Breakfast
10:30 AM - 2:30 PM Carwash Tour
Tour Locations
Canton Auto Wash (Canton)
Jax Kar Wash (Southfield)
Paul's Auto Wash (Clawson)
Pro Car Wash (Troy)
Tour Sponsors